Specialist in temperature control
Temperature control with electricity? That's an area we really know well. Why? Because we've been involved with electric heating plate technology for 30 years now. That's how long we've been developing, producing and marketing electric heating and cooling plates. And press tools made of aluminium, wood or steel. All that experience has turned us into true specialists. We develop solutions for and together with our customers. Individually tailored to their requirements.
We know heating plate technology like the back of our hands.
Busse has that know-how. Busse can do it.
Our national and international customers appreciate our worth: Busse is the flexible, highly capable partner at their side. Almost all the press manufacturers trust in our know-how and rely on our expertise. This has made us the largest manufacturer of standard electric heating plates in Europe. And to be quite honest, we're pretty proud of that. Of course, we also enjoy the trust and confidence of the many customers in other industries that we work for. In the automotive, food and sports industries, for example, or in the construction of grand pianos. Every year, we send out around 3,000 components throughout the world from our heating plate plant in Espelkamp in the German region of East Westphalia. That speaks for itself, we think.
Concentrated cumulative know-how:
the Busse group of companies
Forming tools and heating plate technology have a lot in common.
So it's no wonder that we've been supplying international manufacturers of moulded wood products for several decades. Our market share of around 90% is impressive. And as a tool manufacturer in the plywood processing industry, we have justifiably occupied a top international position as a technology leader for a number of years now. Something else that we're proud of.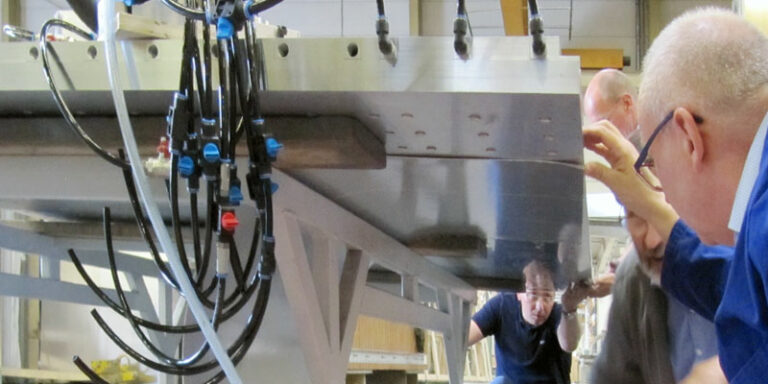 New things excite us!
The demands of new technologies and production areas are a stimulating challenge for us. This is what we work for and what we're passionate about. Hand in hand with our customers, we find the optimum individually tailored solution for every project. An electric heating plate for 3D printing, for example.
Concentrated cumulative know-how:
the Busse group of companies
Heating, cooling, forming. Milling, turning, hardening.
We can do all that in the Busse group of companies. And even more besides: the company acryl-decor Busse GmbH & Co. KG has been working in the field of POS products, furniture and advertising materials for around 25 years.
Busse Heizplattentechnik GmbH has 50 employees and forms the core business unit of the group. Busse Fertigungstechnik GmbH, the third company in the group, manufactures custom-made and precise drawing parts on CNC-controlled machine tools.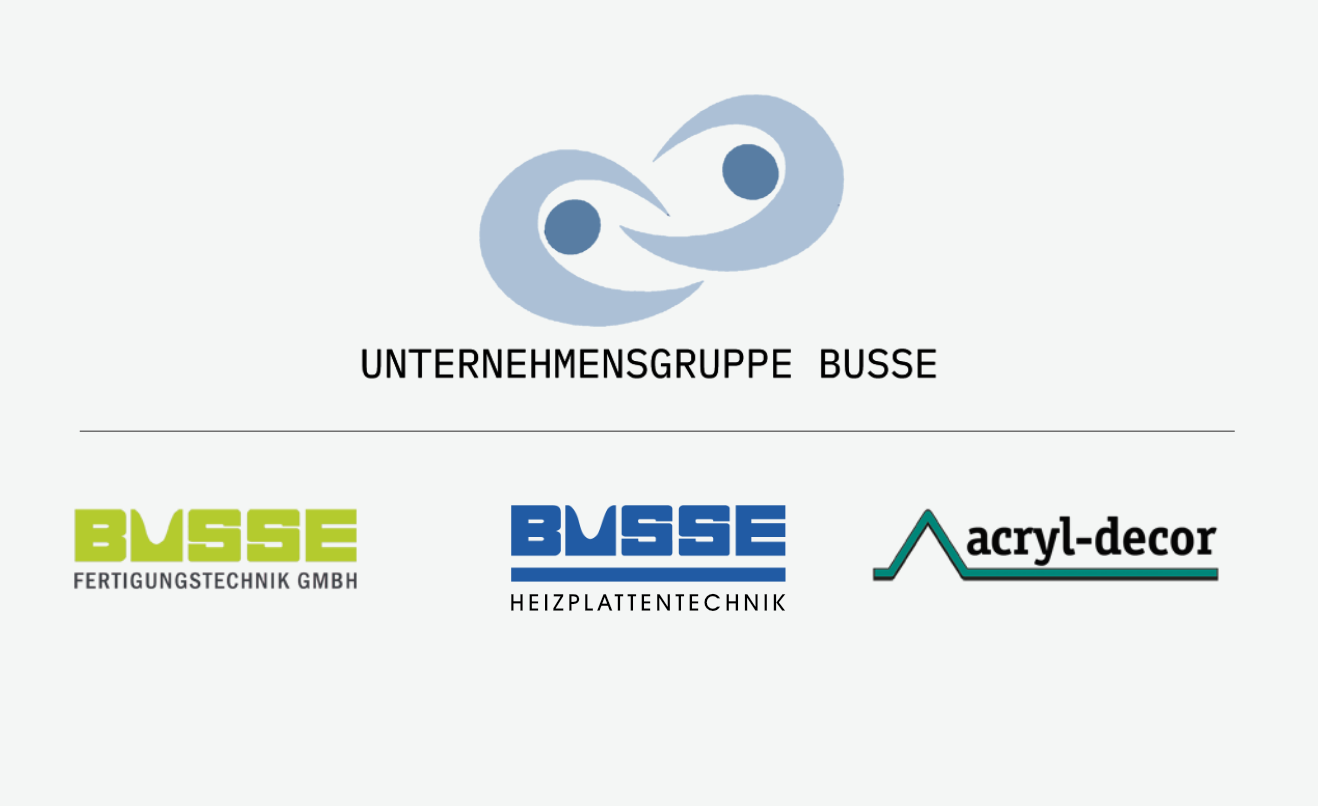 We have been engineering high-performance and individually tailored solutions for heating plates and press tools for more than 30 years. Our customers come from all areas of industry and the skilled trades.
You can find out here how and where you can obtain our products.
Become a part of the Busse team! Find out about our job vacancies or send us an unsolicited application. We look forward to getting to know you.
There are currently no vacancies.
Are you nevertheless of the opinion that we can move forward together? Then convince us! Send us your application. By email to personal@busse-heizplattentechnik.de or by post to:
HR Department
Busse Heizplattentechnik GmbH
Fritz-Souchon-Strasse 22
DE-32339 Espelkamp
We look forward to hearing from you!
Zerspannungsmechaniker/in Fräsemaschinensysteme (M/W/D) zur langfristigen Beschäftigung
Your task:
Operation of CNC-controlled 3-axis or 5-axis milling machines
Your profile:
Completed vocational training as a machining technician for milling machine systems (m/f/d)
Experience with NUM control desirable
You are team-oriented
You are conscientious, resilient and reliable
You speak German
What we offer:
Full-time position
Flexible overtime options
Direct insurance
No shift work
Long-term prospects
Security of working for a high-performing employer
Pleasant working environment
Qualified support during your initial training
Employee (m/f/d) for process planning / construction design
Ihre Aufgaben:
Erstellung und Planung der Fertigungsaufträge
Technische Abstimmung zwischen Vertrieb, Konstruktion, Einkauf und Produktion
Optimierung und Weiterentwicklung von Arbeitsabläufen und produktionsspezifischen Prozessen
Mitarbeit im kontinuierlichen Verbesserungsprozess
Your tasks:

Creation and planning of production orders
Technical coordination between sales, construction design, purchasing and
production
Optimisation and further development of workflows and
production-specific processes, and Collaboration in the continuous
improvement process

Your profile:


Successfully completed vocational training in the technical domain, professional experience
Good technical grasp
Experience with Solid Works
Experience in the use of ERP software
Very good knowledge of MS Office, especially Excel
Structured and conscientious way of working
Motivation, initiative, and the ability to work under pressure

What we offer:

Friendly, informal working environment with flat hierarchies
Permanent employment contract with fair, performance-related payment
Competent and thorough initial training
Company pension scheme
Training as a machining technician specialising in milling technology (m/f/d)
Start of training
01.08.2023
What the job involves:
Machining technicians (m/f/d) manufacture precision components made of metal using machining processes such as turning, milling or grinding. They usually work with CNC-controlled machine tools. They set these up and monitor the production process, repeatedly checking whether the dimensions and surface quality of the finished workpieces meet the specifications. If any faults occur, they immediately take remedial action.
Overview of the training:
Machining technician is a recognised training occupation under the German Vocational Training Act (Berufsbildungsgesetz or BBiG). The training usually takes 3 1/2 years, the vocational college is the Berufskolleg Lübbecke in Espelkamp. The training can be shortened under certain conditions.
What we expect of you:
We expect a school-leaving certificate that has been awarded after ten years of schooling (Secondary Stage I in Germany) with good grades in mathematics, physics and German. Your skills and qualities should include manual dexterity, an interest in working with PCs, motivation, the ability to work in a team, and a willingness to learn. We would like to invite you to undertake a short work placement to get a "taste" of the profession.
What you can look forward to:
Friendly, informal working environment
Competent support during your training, allowing optimal preparation for your Chamber of Industry and Commerce exams
Very good chances of being taken on after successful training
Company pension scheme
Any further questions?
If so, feel free to contact Maik Tielker at any time at +49 (0)5772-9775-45.